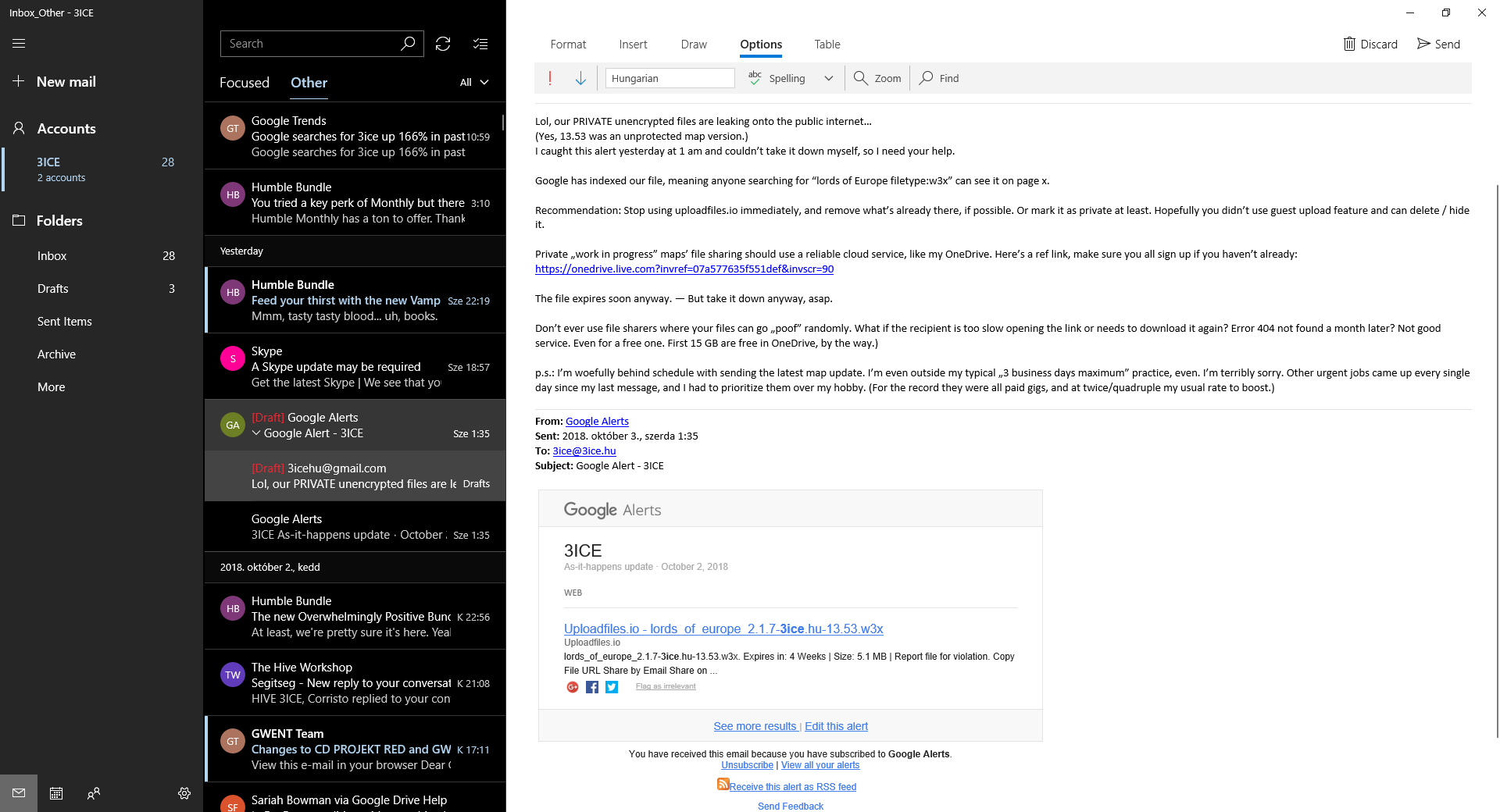 http://static.3ice.hu/images/uploadfile ... --even.png
Text in image:
Lol, our PRIVATE unencrypted files are leaking onto the public internet…
(Yes, 13.53 was an unprotected map version.)
I caught this alert yesterday at 1 am and couldn't take it down myself, so I need your help.
Google has indexed our file, meaning anyone searching for "lords of Europe filetype:w3x" can see it on page 1.
Recommendation: Stop using uploadfiles.io immediately, and remove what's already there, if possible. Or mark it as private at least. Hopefully you didn't use guest upload feature and can delete / hide it.
Private "work in progress" maps' file sharing should use a reliable cloud service, like my OneDrive. Here's a ref link, make sure you all sign up if you haven't already:
Microsoft OneDrive - Access files anywhere. Create docs with free Office Online.
The file expires soon anyway. — But take it down anyway, asap.
Don't ever use file sharers where your files can go "poof" randomly. What if the recipient is too slow opening the link or needs to download it again? Error 404 not found a month later? Not good service. Even for a free one. First 15 GB are free in OneDrive, by the way.)
p.s.: I'm woefully behind schedule with sending the latest map update. I'm even outside my typical "3 business days maximum" practice, even. I'm terribly sorry. Other urgent jobs came up every single day since my last message, and I had to prioritize them over my hobby. (For the record they were all paid gigs, and at twice/quadruple my usual rate to boost.)
From: Google Alerts
Sent: 2018. október 3., szerda 1:35
To: 3ice.hu
Subject: Google Alert - 3ICE
3ICE
As-it-happens update ⋅ October 2, 2018
WEB
Uploadfiles-io - lords_of_europe_2.1.7-3ice.hu-13.53.w3x
Uploadfiles-io
lords_of_europe_2.1.7-3ice.hu-13.53.w3x. Expires in: 4 Weeks | Size: 5.1 MB | Report file for violation. Copy File URL Share by Email Share on ...
Flag as irrelevant
See more results | Edit this alert
You have received this email because you have subscribed to Google Alerts.
Unsubscribe | View all your alerts
Receive this alert as RSS feed
Send Feedback